OUR F.A.Q.
If you're planning a trip to Italy, it's important to know a few things before you start packing your bags. Where to grab cash on-the-go, how to find medicine, and knowing what to pack are just a few things to consider before booking your vacation.
Frequently asked questions
Will I be travelling with other people on your tours?
---
No, all of our tours are private. Nobody else will take part in your tour except you and your family or friends! We are young and enthusiastic, eager to show you our part of the world. The vehicles are new and well-maintained, our drivers are always courteous and at Your disposal for any request.
---
How and when do I get euros?
---
Rather than exchanging cash in the U.S., it's easier on your wallet to use your credit or debit card at any ATM wherever you land in Italy. Every airport has ATMs, and spotting them isn't difficult. Using ATMs in Italy is easy, and a great time-saver, too. ​ To find an ATM in Italy, look for an Italian Bancomat with the af filiations you need (Cirrus, Plus, etc.) In Italy, Bancomats are clearly marked and are found outside banks, or in behind a door that opens when you swipe your card. You can also find Bancomats in airports and at train stations. ​ See Helpful Videos on using ATMS in Europe: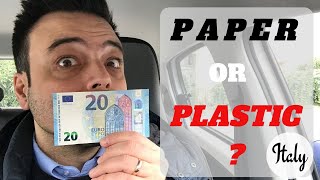 ---
What should I bring with me that's essential?
---
The two most basic things you'll need are any prescribed medications you're taking, and adapters for any electrical components you brought with you, including your phone. All of Europe uses 110V outlets, half the voltage of North America's 220V outlets. So, make sure you have enough adapters for everything from your smartphone to your hairdryer. Don't bring non-essential items like food or snacks, other than what you need on the plane, as you'll be surrounded by amazing restaurants, open-air markets, and bodegas. ​ Pro-traveler's tip: Don't bring any appliances more than five years old—these won't work in Europe, even with an adapter, as they are not 110/220V compliant like today's appliances are. Older appliances require converters, which are heavy and unwieldy, so try to avoid them if possible.
---
What if I need an over-the-counter medication while I'm in Italy?
---
There are pharmacies (farmacias) all over most towns in Italy, and the hours are good at most locations. You can use Google on your smartphone to locate the nearest farmacia, and even those that are open 24 hours a day and on Sundays. If something happens to you medically and a doctor in Italy prescribes you medicine, you can also fill these at any corner farmacia with ease.
---
How much Wine can I bring home?
---
According to U.S. Customs law, travelers over 21 are allowed to bring one liter of any type of alcohol (except for absinthe) into the country without duty. Keep in mind, travelers can't transport bottles with more than 70 percent alcohol content and can only take five liters of alcohol between 24 and 70 percent. Fortunately, wine mostly falls under 24 percent, so you can bring home as many bottles as you want. To keep your finds duty-free, and perhaps bring home more than the one liter allowed, try these tips we've collected for you: ​ Divide and conquer: Liquids aren't allowed onto flights in carry-ons; they must be packed in checked luggage, so make the most of the space you have. If you're traveling with your spouse, friends, or other companions, separating the bottles into each individual's checked luggage minimizes U.S. federal excise taxation upon arrival, as each person's bag is considered their separate property. After discounting one bottle from each person's baggage, every liter will be taxed at your port of entry, usually at three percent. However, if your foreign finds, including other products and souvenirs, are valued under $800, it's not uncommon for customs officials to overlook several bottles of wine and decline taxation entirely. This isn't always the case, so be prepared to be taxed on each additional liter. It may help to know that there isn't a federal limit on how much alcohol you can bring home as long as you pay tax on it. However, entering the U.S. with exorbitant amounts of alcohol could raise red flags at customs. If you've packed too much, agents could become suspicious that you're doing so for commercial purposes without a permit. A good rule of thumb is to not exceed 12 bottles per traveler. ​ Check out more about bringing in alcohol into the states here.
---
When is the best time to visit Italy?
---
Italy is a year round destination. The climate is very moderate all year long but there is a winter, spring, and summer. April to end of June, and September to end of October, are the best months for weather. Not too hot or rainy. For bargains, off season is great - November to March and also the month of August for city hotels.
---
How is Italy Travel Affected by Covid-19? Can you provide details on Future Travel?
---
COVID-19 is an unpredictable and unfortunate situation. However, our team is working daily to stay up to date with the travel restrictions and the reopening timeline in Italy. We are able to provide these important details to you as a client. If you are interested in future travel we encourage call us or email us at info@vafeltre.com
---
What kind of accommodations do you book for us?
---
Depending on your budget we offer 4 + 5 star hotels, luxury B&Bs, castles, villas, and select apartments. All locations we book for you have been veted and approved by us.
---
What is your Cancellation Policy?
---
The planning fee + any tickets purchased on your behalf are non-refundable upon purchase. All other bookings are as follows:
From 91 or more days prior to departure, we give a 50% refund.
From 0-90 days prior to departure, the total cost is non-refundable.
Please note, there are certain exclusive experiences where costs are completely non-refundable upon booking; we will be sure to discuss this with you prior to payment. We highly urge you to purchase travel insurance, even in the case of extreme emergencies it is difficult to guarantee any money back after 91 days. To Purchase insurance please go here: https://www.vafeltre.com/trip-insurance


PLEASE NOTE: This cancellation policy may be temporarily updated due to COVID-19. We will advise you regarding with these changes before moving forward.
---
Do you organize special events for Groups?
---
Yes! We work with groups of all sizes for events and special occasions. We work with solo travelers too! Call us any time at 571.239.3889
---
---
QUESTIONS? CALL US TODAY
We are a family company and we are here for you.
If you still wish to talk or ask us any questions please feel free to reach out to us. We will gladly help and answer your questions.
Lorna Holland - Tour Director/Guide
If you have any questions regarding any upcoming tours feel free to contact her directly at Lornanpep@aol.com or call her at 571-239-3889 - I am always available to talk!